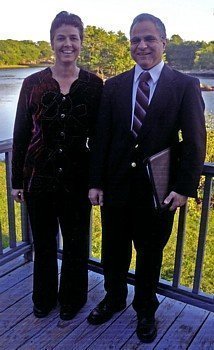 Hello, and thank you for visiting our website. I'm John Scuto and I run Blue Sky Wedding Services along with my wife Cathy. I am a New Hampshire Justice of the Peace, Marriage Celebrant, and legally Ordained Minister. In a past life (Mid 90's - early 2000's) Cathy and I were Wedding Ceremony and Reception MCs, Disc Jockeys and Coordinators (Some of you may remember us as Great Occasions Wedding Services).
The Transformation
In 2000, I became a NH Justice of the Peace, and began performing wedding ceremonies as part of our services. Cathy transitioned from a Reception Coordinator to a Wedding Ceremony Coordinator, and now we focus entirely on the Wedding Ceremony, helping our bridal couples to create unique and memorable Marriage events! On your big day we can perform the Ceremony and coordinate the entire event to your expectations!
More about Marriage Celebrant John Scuto
In addition to being a Justice of the Peace, Marriage Celebrant, and Interfaith Wedding Minister, I am also a Professional Career Counselor maintaining a private practice helping individuals to change careers. I hold a Master's Degree in Counseling with a focus on Spirituality and a Certificate of Advanced Graduate Study in Education. I taught at the college level and in business and industry for many years. One of my favorite parts of being a Marriage Celebrant is assisting our couples in putting their Ceremonies together and then getting the chance to perform the Weddings I help create. I especially like being able to pronounce our couples officially "married!"
More about Wedding Ceremony Coordinator Cathy Scuto
Cathy is not only a Wedding Ceremony Coordinator and NH Justice of the Peace, but she is also a Bookkeeper and Seamstress. Cathy runs her own part-time business making quality handmade items for pets, and selling other pet related gifts. One of Cathy's greatest strengths is organization. She enjoys helping our couples to organize things at their Rehearsals, and loves to see everything go as planned on their big day.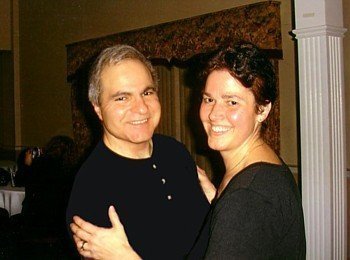 Our Philosophy
Every couple is unique and, just as every couple is unique, so should every Wedding Ceremony be unique. It's our belief that your Ceremony should reflect who you are and what you believe in both as individuals and as a couple. And, the best way to achieve this is to allow you to play an important role in putting your Ceremony together. Our experience has shown us that if you are like most of the couples we work with, you will know, intuitively, what is right for you. Toward that end, we give you the instructions and materials for putting together a great Wedding Ceremony, we keep ourselves available for help and questions, and we then give you free reign to create the Ceremony of your dreams. As a result, the Ceremony we preside over will be a wonderful reflection of your personalities, backgrounds, values, and beliefs. In the end, it will have so much more meaning for you, your families, your guests, and yes, even for us!
Some Locations at which We've had the Pleasure of Working......
•Abenaqui Country Club, Rye, NH
•Acorns Restaurant, Durham, NH
•Alvirne Chapel, Hudson, NH
•Ashworth By The Sea, Hampton, NH
•Atkinson Common, Newburyport, MA
•Atkinson Country Club, Atkinson, NH
•Bedford Village Inn, Bedford, NH
•Belgian Meadows, Lebanon, ME
•Boynton's Taproom, Manchester, NH
•Candia Woods Golf Links, Candia, NH
•Casey Function Center, Portsmouth, NH
•Castleton, Windham, NH
•Church on the Plains, Kingston, NH
•Cottage By The Bay, Dover, NH
•Crowne Plaza, Nashua, NH
•Dell-Lea Country Club, Chichester, NH
•Executive Court Inn, Manchester, NH
•Exeter Inn, Exeter, NH
•Frank Jones Center, Portsmouth, NH
•Fratello's, Manchester, NH
•Governor John Langdon House, Portsmouth, NH
•Governor's Inn, Rochester, NH
•Granite Rose, Hampstead, NH
•Great Island Common, New Castle, NH
•Groveland Fairways, Groveland, MA
•Harris' Pelham Inn, Pelham, NH
•Holiday Inn, Concord, NH
•Inn of Exeter, Exeter, NH
•Jenness Beach, Rye, NH
•John Paul Jones House, Portsmouth, NH
•Library Restaurant, Portsmouth, NH
•Little Harbor Chapel, Portsmouth, NH
•Ogunquit Beach, Ogunquit, ME
•Promises To Keep, Derry, NH
•Portsmouth Country Club, Portsmouth, NH
•Prescott Park, Portsmouth, NH
•Radisson Hotel, Manchester, NH
•Radisson Hotel, Nashua, NH
•Rivermill at Dover Landing, Dover, NH
•Rye Harbor State Park, Rye, NH
•Seacoast Science Center, Rye, NH
•Searles Castle, Windham, NH
•Short Sands Beach, York, ME
•Sky Meadow Country Club, Nashua, NH
•South Church, Portsmouth, NH
•Sunny Slope Farm, Alton, NH
•The Centennial, Concord, NH
•The Chateau Restaurant, Andover, MA
•The Derryfield, Manchester, NH
•The Oaks, Somersworth, NH
•The Yard Restaurant, Manchester, NH
•Three Chimney's Inn, Durham, NH
•Valentino's, Hudson, NH
•Victoria Inn, Hampton, NH
•Wentworth By The Sea Country Club, Rye, NH
•Wentworth By The Sea Hotel, New Castle, NH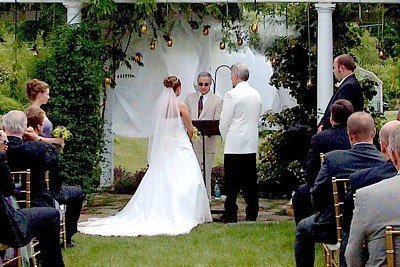 Why The Name "Blue Sky" Wedding Services?
Well, we thought about keeping the name "Great Occasions" but we always considered that to be more related to Disc Jockeying and the Reception. Since we had changed our focus to the Ceremony, we decided to change the business name also. After considering numerous possibilities, we settled on Blue Sky because of its positive connotation. You may have heard of the song with the lyrics "...nothing but blue skies from now on...". It means that there will be nothing but good things happening from that day forward. Since that is our wish for all the couples we marry, we felt it was a wonderful name for the business, and thus, "Blue Sky" Wedding Services was born. As an aside, we were also hoping that the name would, in some mysterious way, transfer its energy so that we would have nothing but blue skies for all the Weddings we perform outdoors. We don't want to say anything too loud... (whisper) but it may be working!!!
We like to feel we're changing New Hampshire, Massachusetts, and Maine... one great Ceremony at a time!
For questions or to schedule a free consultation...
Please Contact Us.